Hannah Parr
Sandi Paucic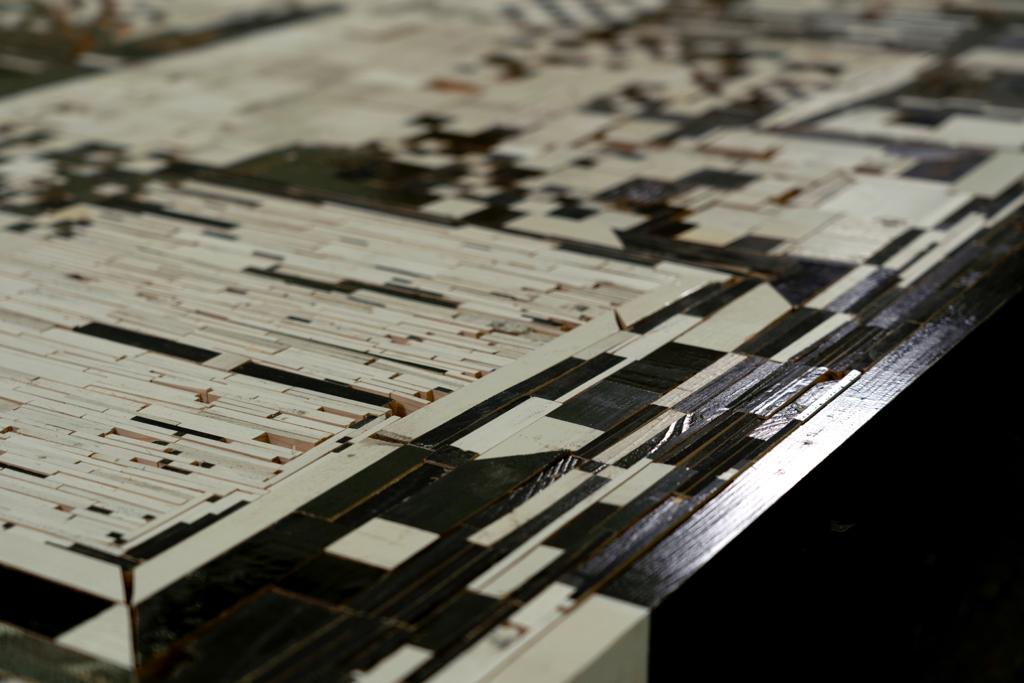 Hannah Parr lives and works in Zurich. 2018 - 2020 MA in Fine Arts Zurich University of the Arts, 2003 - 2006 BA in Graphic Design Central Saint Martins College of Art and Design. Artist website Hannah Parr
Scroll down for German
As a sculptor, Hannah Parr often works with wood. Her mosaic-like works, however, also make references to painting, an early medium that has contributed to her sculptural methodology. The artist starts from the found material of used construction site barricade slats. Fascinated by their function to delimit or mark a border and high-contrast signal code, she transforms these used functional objects into artworks that can be viewed as sculptural paintings.
The wood used by the artist has already undergone multiple transformation processes: it grew as a tree, was felled, sawn up, painted and used on building sites. With their scratches, broken-off parts and damage, the wooden slats are marked by their everyday use, where they are not primarily attributed an intrinsic aesthetic value. The transfer of the material into art offers the artist, who is obsessed with the visual intensity of the simple "hard edge" of the initial pattern, the possibility to reinterpret the material, its anatomy, surface, texture and colour tones.
Parr deconstructs the minimal pattern of alternating black and white segments of the slats by sawing them into smaller pieces. In this process of deconstructing and fragmenting the original, banal pattern and then assembling it into complex compositions, she achieves a rich painterly surface that, although abstract, is visually charged and reminiscent of landscape paintings or vegetal motifs.
Hannah Parr's art also draws on surrealist approaches. When she covers an ironing board with her mosaic or when she cuts the burnt-out bottom of an oil drum found in Tuscany into segments and arranges them in a flat cardboard box - an objet trouvé - which, through a little tongue-in-cheek intervention of visual alchemy, turns into a charred pizza. As with the 'mosaics', the messages conveyed in Parr's artworks are charged with visual complexity. By deconstructing, reinterpreting and displacing what exists and presenting it in the art context, she comments upon condemning given normalities.
___________
Lebt und arbeitet in Zürich. 2018 - 2020 MA Zürcher Hochschule der Künste, 2003 - 2006 BA in Graphic Design Central Saint Martins College of Art and Design.
Als Bildhauerin arbeitet Hannah Parr häufig mit Holz. In ihren mosaikartigen Arbeiten finden sich jedoch auch Bezüge zur Malerei, einem frühen Medium, das zu ihrer bildhauerischen Methodik beigetragen hat. Die Künstlerin geht von dem vorgefundenen Material gebrauchter Baustellenabsperrungslatten aus. Fasziniert von deren Funktion, eine Grenze zu markieren mittels eines kontrastreichen Signalcodes, verwandelt sie diese gebrauchten funktionalen Objekte in Kunstwerke, die als skulpturale Gemälde betrachtet werden können.
Das von der Künstlerin verwendete Holz hat bereits mehrere Transformationsprozesse durchlaufen: Es wuchs als Baum, wurde gefällt, zersägt, lackiert und auf Baustellen verwendet. Mit ihren Kratzern, Ausbrüchen und Beschädigungen sind die Holzlatten von ihrem alltäglichen Gebrauch gezeichnet, wobei ihnen nicht primär ein ästhetischer Eigenwert zugeschrieben wird. Die Übertragung des Materials in die Kunst bietet der Künstlerin, die von der visuellen Intensität des simplen "Hardege" des ursprünglichen Musters besessen ist, die Möglichkeit, das Material, seine Anatomie, Oberfläche, Textur und Farbtöne neu zu interpretieren.
Parr dekonstruiert das minimale Muster aus abwechselnd schwarzen und weißen Segmenten der Leisten, indem sie sie in kleinere Stücke sägt. Dadurch dekonstruiert und fragmentiert sie das ursprüngliche banale Muster, um es dann zu komplexen Kompositionen zusammenzusetzen. So erzielt sie eine reiche malerische Oberfläche, die zwar abstrakt, aber visuell aufgeladen ist und an Landschaftsbilder oder pflanzliche Motive erinnert.
Hannah Parr greift in ihrer Kunst auch auf surrealistische Ansätze zurück. Wenn sie ein Bügelbrett mit ihrem Mosaik bedeckt oder wenn sie den ausgebrannten Boden eines in der Toskana gefundenen Ölfasses in Segmente zerschneidet und diese in einem flachen Pappkarton als objet trouvé platziert, der sich durch einen kleinen augenzwinkernden Eingriff visueller Alchemie in eine verkohlte Pizza verwandelt. Wie bei den "Mosaiken" sind auch die Botschaften in Parrs Kunstwerken mit visueller Komplexität aufgeladen. Indem sie Bestehendes dekonstruiert, umdeutet und verschiebt und es im Kunstkontext präsentiert, kommentiert sie mittels Verurteilung gegebener Normalitäten.